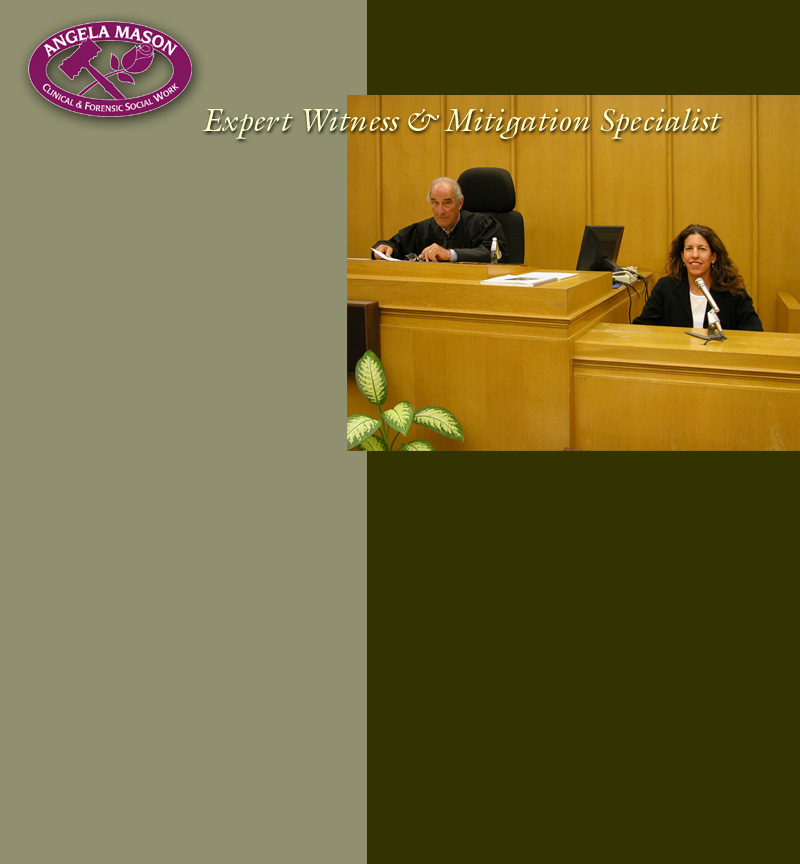 I have been appointed on more than 30 state and federal
pre trial and habeas death penalty cases in California,
Florida, Louisiana, Texas and Missouri. As an expert
witness on more than 25 non capital cases, I interview
witnesses, compile records and documents and create
psychosocial histories. For some cases, I recommend
appropriate services and treatment; on others I write a
well-researched in depth alternate sentencing plan specific
to the client's needs.

I have testified as an expert forensic social worker in the
penalty phase of several California state capital trials, on
a federal case in Florida and in numerous juvenile matters.
As an expert witness, I strive to make the connection
between the client's multigenerational patterns of trauma,
physical, emotional and sexual abuse and neglect,
Complex Post Traumatic Stress, abandonment, mental
illness, drug and alcohol abuse and the crime. Mitigation
does not excuse the offense but it often illuminates why
the client may have resorted to felonious or homicidal
behavior.

As an Licensed Clinical Social Worker (LCSW) with two
Masters' Degrees in Public Health and Social Work from
Tulane University as well as over ten years experience in
the public school systems of Louisiana and Los Angeles,
I am uniquely qualified to provide you clinical expertise in
assessing multigenerational patterns of physical, sexual
and emotional abuse and neglect, substance and alcohol
addictions and mental health problems. I create genograms
or family maps to effectively communicate this information
to the jury.

As a member of your defense team, I would offer a non-
judgmental perspective and assist in building and maintaining
positive relationships with clients and their families, diagnosing
and creating treatment plans, recognizing signs and symptoms
of depression, anxiety, personality disorders, self-mutilation,
grief and post traumatic stress disorder, and helping interpret
and apply information from the DSM manual. Moreover, my
extensive training in crisis situations would allow me to build
rapport with your hard to reach clients. Finally, my experience
with diverse cultures as well as my Peace Corps experience in West Africa would serve you well.

I will be pleased to meet with you at your convenience and am
confident that I might assist you in the support and preparation
of your client's defense.
Angela Sydney Mason, M.P.H., M.S.W.
Licensed Clinical Social Worker LCS 21375
6230 Wilshire Blvd. #1122
Los Angeles, California 90048-5104
Email: MitigationExpert@SBCglobal.net
Tel and Fax: (323) 938-0119
Cell Phone: (310) 433-4834